The Best of Netflix
The innumerable titles available on Netflix can be daunting. Here's a guide to the best movies and TV shows available for streaming.
Being a teenager requires you to watch every show on Netflix, right? Within my 16 years of life, I have watched a lot of different movies and television shows of all genres. These are almost all of the shows and movies I have started, finished, or even rewatched in the last few years on Netflix, and my overall review of everything (without spoilers of course).
Netflix Original TV Shows
I watched the first season of Stranger Things right when it came out. I was really into it, and was invested in the characters and their lives. I liked it, but I didn't love the second season as much.
This was one of my favorite Netflix originals. Both seasons were incredibly funny, and really well written. I watched the whole second season the day it came out.
At first I thought this was a romantic storyline, then it took a turn. Without giving away too much of the plot, You definitely leans more towards the crime and drama side of the spectrum. I am currently watching this series, and will probably finish it this week.
I absolutely loved this show. It was incredibly inspiring to watch as a woman, and it was really funny too. I liked that the series was inspired from true events, and that you can actually buy from her store, Nasty Gal. Unfortunately, the second season of Girlboss was cancelled.
On My Block was one of my favorite shows in 2018. This show is a really great mix of drama and comedy. The highly anticipated second season is coming out this year, and us fans are excited to see what will happen after the major season one cliffhanger.
I watched season one when the show was first extremely popular, but I never actually finished season two. I personally thought that season one was very entertaining and eye-opening. I couldn't get into the second season of the show after the iconic first season.
Netflix Original Movies
Honestly, I only watched this movie so I could understand the memes. I thought the movie was okay, but there were some plot holes that left me with questions. I also did not like the ending of Bird Box, and it left me with even more questions than before.
I watched this movie in 2018, and thought it was cute. I liked that the two main characters were living almost the same life, which makes them so compatible. It wasn't my favorite Netflix original, but I did really like the storyline.
To All the Boys I've Loved Before
I read this book when I was in grade school, so I was excited to watch the movie adaptation. Noah Centineo was a large part of why this movie became so popular. I thought the movie was really cute and had a fun storyline.
I did enjoy this movie, although I did think it was a little cheesy. I liked the storyline, but the actors did not do a great job portraying their characters. It would have had more potential with better actors in my opinion.
The Classics
These are some of my favorite classic movies and television series on Netflix. They are all great movies and shows that I would highly recommend watching.
TV Crime
Law & Order: Special Victims Unit
Law & Order is an absolute classic show, and SVU is my personal favorite. It is mainly focused around the cases that the detectives solve. I feel personally involved and invested into this show when I watch it.
This show was definitely one of my favorites. The story line in really interesting, and there is no other show like it. Blacklist is full of plot twists that will keep you on your toes.
Good Girls definitely leans more towards comedy than crime. It is a hilarious show about suburban moms who get caught up in a life of crime. Season one just aired, and I watched it immediately. It ended on a cliffhanger, so be prepared to want more.
Criminal Minds is a classic crime show, and my all time favorite crime show as well. The episodes are mainly based on the criminal profilers and their cases, but it also gives us an insight in the detectives lives. I am personally very invested in the characters and would highly recommend this show.
I really enjoyed watching this show, as it's based on true crime stories. Each season follows a different true crime story, so far there's been "The People V. OJ Simpson" and "The Assassination of Gianni Versace." The second season is my personal favorite, but the first season is really good as well. The show has incredible acting, and it's thoroughly entertaining.
TV Dramas
I ended up enjoying this series more than I thought I would. I was very invested in the character's romantic lives, and loved watching the progression of them. One aspect of the show that I really enjoyed is learning about American Sign Language and the deaf community.
The Fosters is another one of my favorite TV Dramas. I loved watching the characters grow closer as a family, and watching Callie, one of the main characters, learn to grow and love her family. I also was very invested in the relationships in the show. I would highly recommend this series, but I did not like how the series ended.
I really enjoyed watching this series. I really like Lucy Hale, which is one of the reasons that I started watching it. There are a lot of plot twists within the series. I really liked watching this show, and would recommend watching it if you haven't already.
Grey's Anatomy is one of my top favorite shows. It might be hard to get into at first since there are so many episodes, but it is definitely worth it. I am really interested in the medical field, so I love that aspect of the show. I also am invested in the characters and their lives. I would highly recommend getting caught up on this show.
TV Comedies
Glee is a great show that focuses on teenagers in highschool and their journey throughout growing up, along with being in a glee club at their school. I really liked watching this show last year, and finished all the seasons in about 2 months.
I was really excited to watch this when it first came out since I grew up watching Full House. I didn't hate the show at first, but after about the third episode, I couldn't keep watching. The writers tried way too hard to be relatable and trendy, and I really disliked it.
Childhood Movies
I recently rewatched old childhood movies on Netflix. These were some of my favorites from my childhood, and now.
Cloudy with a Chance of Meatballs
About the Writer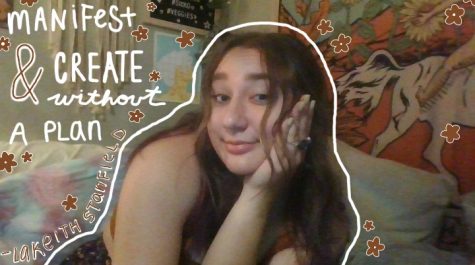 Anna Schrader, Reporter / Photographer
Anna Schrader, a senior at John Adams, will be contributing her writing, art, and photography to The Tower for her third year in a row. After parting ways...