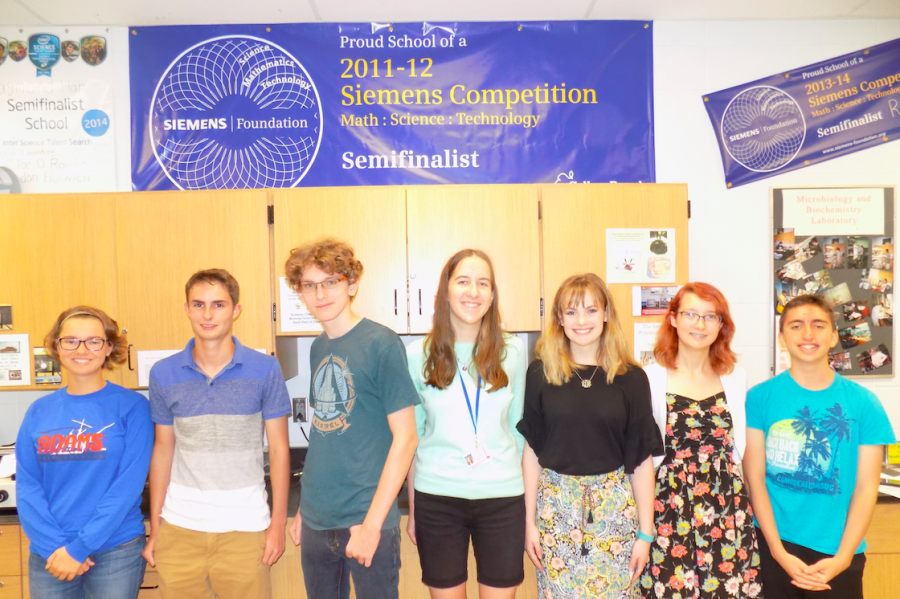 A big congratulations goes to seven John Adams IB [International Baccalaureate] students who were selected to present their research findings at the finals of the Indiana Science Talent Search at Indiana University Medical Center on October 13th. Only eleven high school student researchers across the state made this year's final competition- and seven of these students were from John Adams High School. We proudly recognize IB [International Baccalaureate] students Julilla Bear, Lara Chuppe, Allison Doctor, David Engel, Nicholas Good, Kendall Moore, and Stanley Rozenblit for their accomplishments. The top two winners will present their findings at the American Association for the Advancement of Science Convention in 2019. To enter, students wrote twenty-five page research reports which they compiled after completing investigations during the past school year. These research reports also serve as the students' IB Extended Essays. Their reports, along with approximately seventy-five others, were evaluated over the summer in a "blind study" by a team of specialists in the Indiana Academy of Science from different science and engineering fields. Selection of the top students was based on the research report, a discussion of their poster, and an intensive interview. The Indiana Science Talent Search Competition was originated by Indiana University Medical School, to encourage more high school students to enter the fields of science, mathematics, and engineering as careers.
David Engel, a John Adam's senior, had a project titled, "Investigating the Effectiveness of Indigenous Bacteria Found in Lake Sediments in a Microbial Fuel Cell." Engel tested the levels of methylene blue and cellulose in a microbial fuel cell, and then recorded the wattage output.
Allison Doctor has been working on her STEM project for the past three years. Doctor stated that "she been studying the effects of titanium dioxide nanoparticles on the rate of regeneration in planarian flatworms. Due to the popularity of nanoparticles and diverse applications in everyday life, I was interested in seeing if there was any toxic effects on planarian regeneration". Planarian flatworms have the ability to regenerate a missing anterior or posterior if they are cut in half so they are an ideal test subject. Essentially, Allison Doctor cut the planarian in half and place each end in a separate container of varying solution of titanium dioxide and spring water. Every three days, Doctor would take measurements of the blastema regeneration, and record the data until the missing end has completely reformed. She also used methylene blue to quantify the amount of neoblasts present in the blastema for planarians in each of the concentrations.
Lara Chuppe based her Science Talent Search project on the "Studies on the Effects of Amino Acid Supplementation with Methionine and Cysteine Restriction on the Rate of Regeneration in Planarian Flatworms". Cysteine and methionine are the two sulfur-containing amino acids, so Chuppe's investigation was examining the impacts of sulfur-containing amino acid restriction on the ability of planarian flatworms to regenerate, or in other words, to grow new cells after being cut in half. Lara Chuppe stated that she, "found at the higher of the two concentrations tested, there is a significant difference in comparison to planaria that were regenerating in regular spring water. I was drawn to this area after reading an article that discussed the benefits of hydrogen sulfide, which is linked to sulfur containing amino acid restriction in helping rodents recover from oxygen damage to tissues."
Finalists and their projects:
-Julilla Baer: "Comparing the Effectiveness of Chlorella Vulgaris and Anabaena Variabilis in Removing Elevated Concentrations of Nitrogen and Phosphorus"
-Lara Chuppe: "Studies in the Effects of Amino Acid Supplementation with Methionine and Cysteine Restriction on the Rate of Regeneration in Planarian Flatworms"
-Allison Doctor: "The Effects of Titanium Dioxide Nanoparticles On the Rates of Volume
Regeneration in Planarian Flatworms"
-David Engel: "Investigating the Effectiveness of Indigenous Bacteria Found in Lake
Sediments in a Microbial Fuel Cell"
-Nicholas Good: "Enhancing the Growth Rate of Algae Using Heat Recycled from a
Computer Undergoing Data Processing"
-Kendall Moore: "Possible Effects of Pramiracetam on Choline Uptake and Its Relationship to Cognitive Function in Lab Mice"
-Stanley Rozenblit: "Possible Role of Procera AVH as an Antioxidant and Its Implications on Enhancing Cognitive Function"